Quite Possibly the Best Meal We Have Ever Had – Beechwood Inn:  Ryan and I wanted an easy getaway from Atlanta. As is most often the case with us, we decided to head to the mountains. Our favorite part of our weekend ended up being where we stayed – The Beechwood Inn, a luxurious Georgia mountain bed & breakfast with the most amazing chefs!
Quite Possibly the Best Meal We Have Ever Had – Beechwood Inn
THE BEECHWOOD INN
Every year, especially in the fall, we're asked to recommend our favorite places to stay in the North Georgia mountains and in wine country. The problem: when we go, we're usually staying with family or in a large cabin with lots of friends. That is neither romantic, intimate, nor unique. Up until now, we haven't had a recommendation for a wonderful inn or small bed and breakfast. Friends, that has changed! This time, we found a place to stay!
The Beechwood Inn is in Clayton, Georgia, just under two hours north of Atlanta. It's nestled in the Blue Ridge Mountains and right along Tallulah Gorge State Park.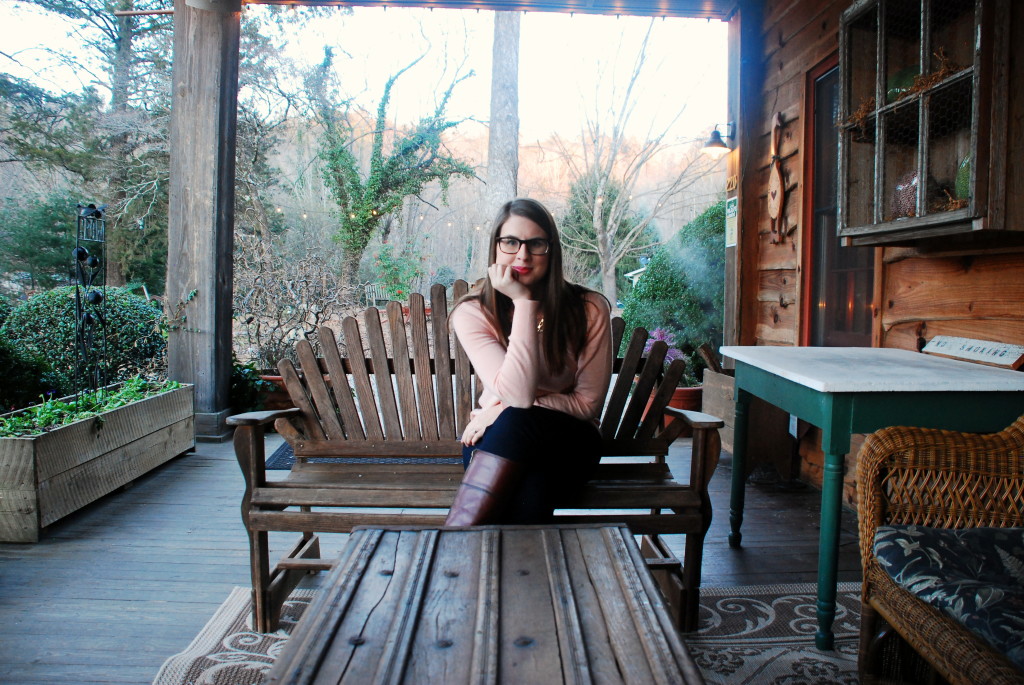 The Beechwood Inn turns 100 this year, and its antique characteristics are present in the original wood floors and cozy fireplaces. We were pleasantly surprised by the decor. It had a rustic feel, and while it was filled with antiques, it wasn't frilly, nor was it mountain-kitsch. It felt historically authentic.
Our room was spacious and comfortable. The fireplace, which operates on a timer so that you don't have to worry about it, was a wonderful luxury to fall asleep next to. The king bed was incredibly plush, making it difficult to leave the next morning. I could have slept all day, but breakfast was waiting on us.
THE FOOD – Quite Possibly the Best Meal We Have Ever Had – Beechwood Inn
Yes, let's talk about the food! As soon as we saw that the owners, Gayle and David, went to culinary school in Dijon, France, we couldn't contain our excitement! Having just recently returned from Burgundy, we were ready for an amazing meal! Every Saturday night, the Beechwood Inn throws an amazing six-course meal. Below is our menu from our trip:
Menu
Wine-Thirty: Local Fennel Sausage Crostini
with Beechwood Inn Wine
Appetizer: Gnocchi Souffles with Parmesan Cream with Fresh Herbs
with Vero Rosso Salento, Puglia, Italy
Salad: Local Sausage, Fresh Local Cheese, Candied Pecans, Organic Micro-Greens, Aged Sherry Vinaigrette
Entree: Pan Seared Steel Head  Trout with White Wine Shallot-Caper Sauce, Charleston Gold Laurel Aged Rice, Steamed Roasted Winter Vegetables
with 2010 Colene Clemons Margo, Pinot Noir, Chehalem Mountains
Vini da Meditazione: Aged Gouda Cheese, Mugolio Pine Cone Bud Syrup
with 2012 Nardone Aglianico, Campania, Italy
Dessert: Gayle's Molton Chocolate Cake with Vanilla Cream, Fresh Brewed Coffee and Herb Teas
Quite Possibly the Best Meal We Have Ever Had – Beechwood Inn: Ryan and I live in Decatur, a wonderful location for Atlanta restaurants, and we make it a point to try new and exciting places. In that sense, we are very much spoiled. We also plan most of our trips abroad around eating, so trust me on this next part. This was quite possibly the best meal that we have ever had. It was, by far, the most well thought out meal that we have ever been served. Between each course, David walked us all through the ingredients. We learned about the local farmers who grew the micro-greens in our salad and raised the pigs for the house-made fennel sausage; we even learned the history of Laurel-Aged Charleston Gold Rice. Each wine pairing was excellent, and David explained their characteristics, their regions of origin, and the best way to taste our glass of Italian Nardone when paired with our cheese course. We shared a table with another couple, and they were equally impressed with such a fine dining experience outside of the city. While each description was mouth-watering, each bite was even more delicious.
We brought home the 2012 Nardone Aglianico and the pine cone syrup from the Dolomite mountain region of Italy.
Breakfast was very impressive in its own right.
THE WELL-DESERVED AWARDS
A Friend Afar calls this their "new favorite mountain home." Ok, but seriously, you don't have to take my word for it, even though food is my favorite. Here's what everyone else is saying:
2007 – 2015: Wine Spectator Award of Excellence – The Beechwood Inn is consistently honored for having one of the most outstanding wine lists in a restaurant in the world.
Wine Enthusiast Magazine placed Beechwood Inn in the Top 5 Destinations "for your next wine and food-focused escape." We agree, and we love how accessible it is from Atlanta.
The Honest Company names Beechwood Inn as one of the top Romantic and Eco-Friendly Destinations in the United States. Five acres of the property is designated as a bird sanctuary, and the Inn's habitat is certified by the National Wildlife Federation's worldwide network as a mini-refuge. How cool is that?!?
Atlanta Magazine named Beechwood Inn one of the Top 4 Cozy Inns in the South
They are also a member of  Select Registry – Distinguished Inns of North America, which is comprised of the 400 finest Country Inns, Luxury B & B's and Unique Small Hotels. As a member of Select Registry, Beechwood Inn is acknowledged to be one of the Best Bed and Breakfast Inns in North Georgia.
Thinking about a weekend getaway from Atlanta?
Pining for a cozy mountain retreat or a great home base for visiting multiple North Georgia vineyards? What are you waiting for? This is the best place we've seen! Sorry Mom, but I'll be staying with David and Gayle at the Beechwood Inn the next time I come visit! I'll treat you to dinner.
Quite Possibly the Best Meal We Have Ever Had – Beechwood Inn
[Disclaimer: This is a sponsored post. The Beechwood Inn gave us a free night's stay, but all opinions posted here are our own. We really loved it and plan on visiting again soon!]